Is the Divi Form not sending email from your website?
Contact forms are vital for any online business. If you aren't getting messages from the contact form, you might miss out on important communication.
In this guide, we'll show you how to fix it so that you receive emails from your contact form.
Why Is My Divi Contact Form Not Working?
There are multiple reasons why the Divi contact form on your website is not working.
By default, your website uses the PHP mail() function to send emails from your website. However, there are some limitations to it. Some hosting companies are not configured to use the PHP mail() function while some limit the usage.
Another possible reason might be that the Divi contact form is not configured properly. By default, WordPress uses a non-existent email address ([email protected]) for automated notifications. Most email services have spam filters that authenticate the origin of emails. Since you don't have such an email address of your domain, emails from your contact form end up in the junk box.
Now that we understand the reasons, let's take a look at the possible solutions.
How To Fix Divi Form Not Sending Email Issue?
Ready to fix the Divi form not sending email? Follow the below steps:
Let's start the troubleshooting by checking the settings of the contact form module.
Step 1: Check Divi Contact Form Settings
Divi contact form module is very basic and comes with limited field options. To check the settings of the contact form, open up the page that has the contact form module with Divi builder.

Click anywhere on the contact form and then click on the gear icon to open the module settings. In the content tab, scroll down to the Email option and expand it.

Here, type in the email address on which you want to receive the notifications. It is recommended to use an email address that matches your domain. For example, since our domain is wpmailsmtp.com, we use [email protected] for our contact form.

Sometimes, due to a mismatch in the spam protection, genuine messages can be marked as spam.
Scroll down to the Spam Protection settings and expand it. If you are using a spam protection service like Google reCAPTCHA, you can see a minimum score option for the messages to pass the spam test. Set this to the value of 5 which is the center value of the scale.

If this doesn't fix the problem, we'll need to install the WP Mail SMTP plugin. We'll show you how to set it up in the below steps.
Step 2: Install the WP Mail SMTP Plugin
WP Mail SMTP is the best SMTP plugin for WordPress. It improves email deliverability by connecting your website to external email service. This adds authentication to the messages that is needed to bypass the spam filters of most email apps.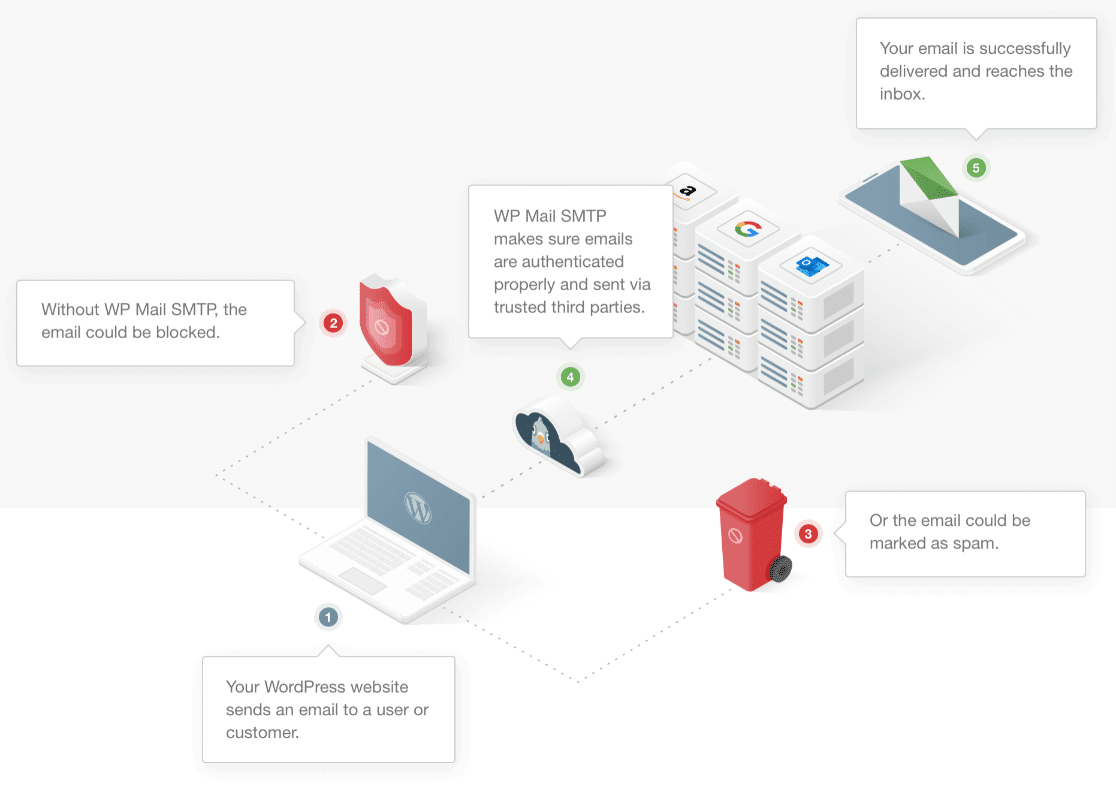 Apart from this, WP Mail SMTP also lets you:
test email on your website
control the automatic email notifications generated by WordPress
choose between multiple popular email service
The plugin has a setup wizard that makes configuring it an easy task. If you prefer to have someone else set it up for you, White Glove Setup is included with the Elite license or higher.
If you want to do it by yourself, follow the step below.
Install the WP Mail SMTP
To start, go to your WP Mail SMTP account and look for the Downloads tab. Click on the orange button to download the latest version of the plugin.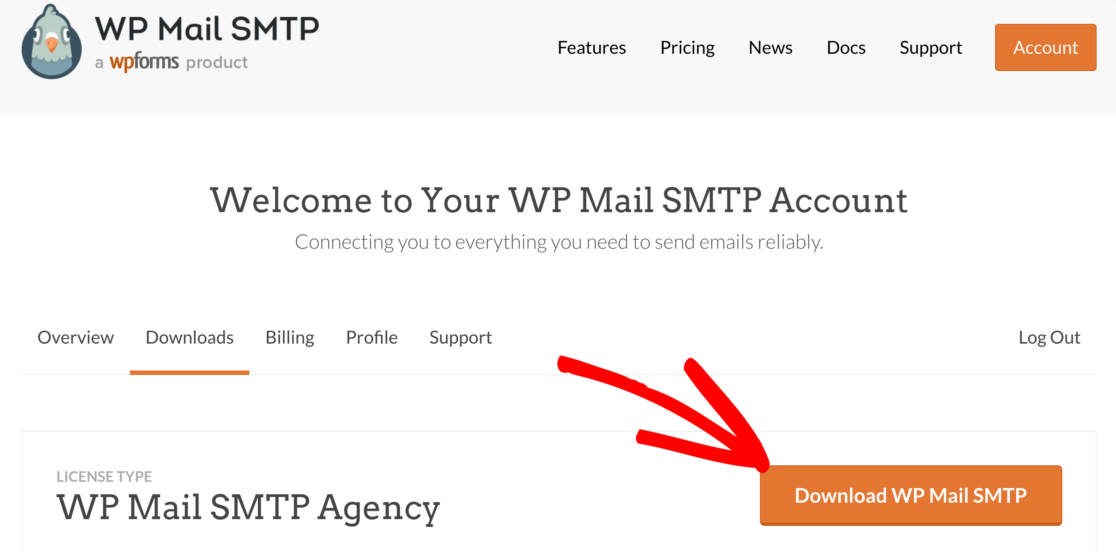 Now, open up the WordPress dashboard and upload the zip file to your WordPress site.

If you need help with this part, check out the step-by-step guide on how to install a WordPress plugin.
Make sure you Activate the plugin. As soon as you do that, the Setup Wizard will start in your browser.
If you're not ready to start the wizard right now, you can come back and restart it by clicking the Launch Setup Wizard button in the plugin settings.
If you already have a mailer service setup, we don't recommend running the setup wizard as this will reset the settings you have.
Choose a Mailer Service
In this step, we'll choose an external mailer service that'll be used to send emails from our website. This will fix the Divi form not sending email.
To start the wizard, click the Let's Get Started button.

Now it's time to choose your mailer.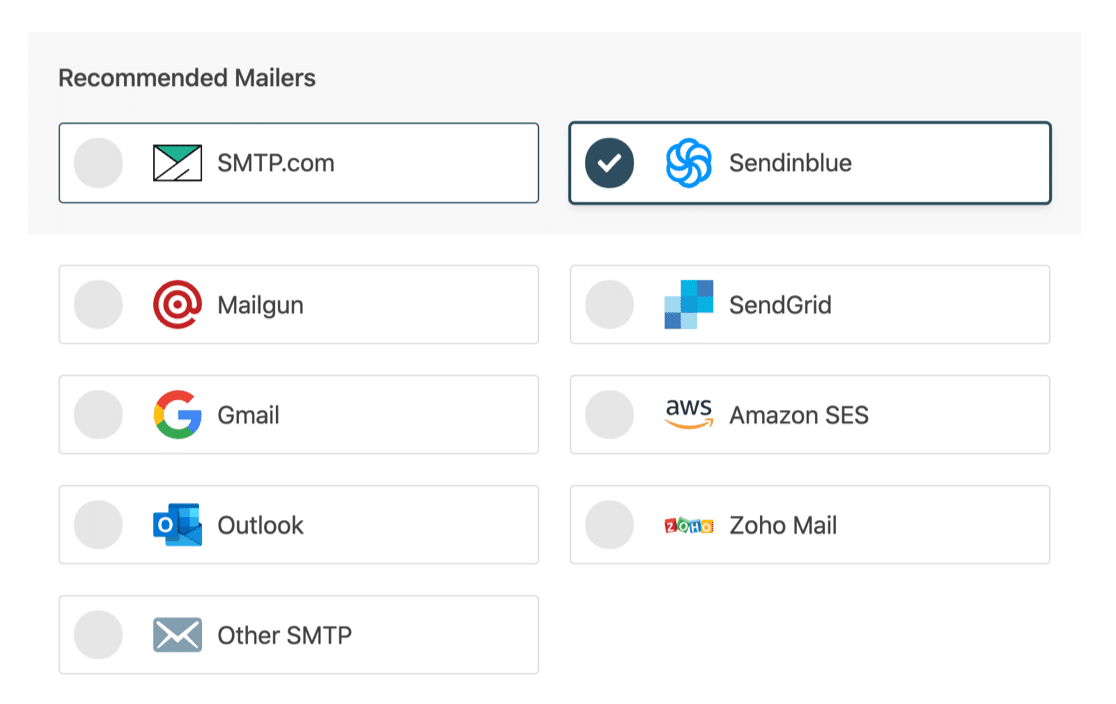 WP Mail SMTP offers a wide range of options for the mailer service.
We recommend SMTP.com and Sendinblue because they are reliable and easy to use. They are perfect for small as well as websites with a big audience.
If you already have access to an SMTP server from your web hosting, you can use the Other SMTP option from the list.
If you are not sure what to choose, you can read this complete guide on the WP Mail SMTP email providers.
Once you choose the mailer, you'll want to switch over to the documentation. We've created detailed guides for each one.
When you've set everything up on your email service website, come back to this guide to enable email logging on your site.
Enable Email Logging
For the next step, you can enable or disable the email features you want. You will have two options enabled by default.
Email Deliverability
Email Tracking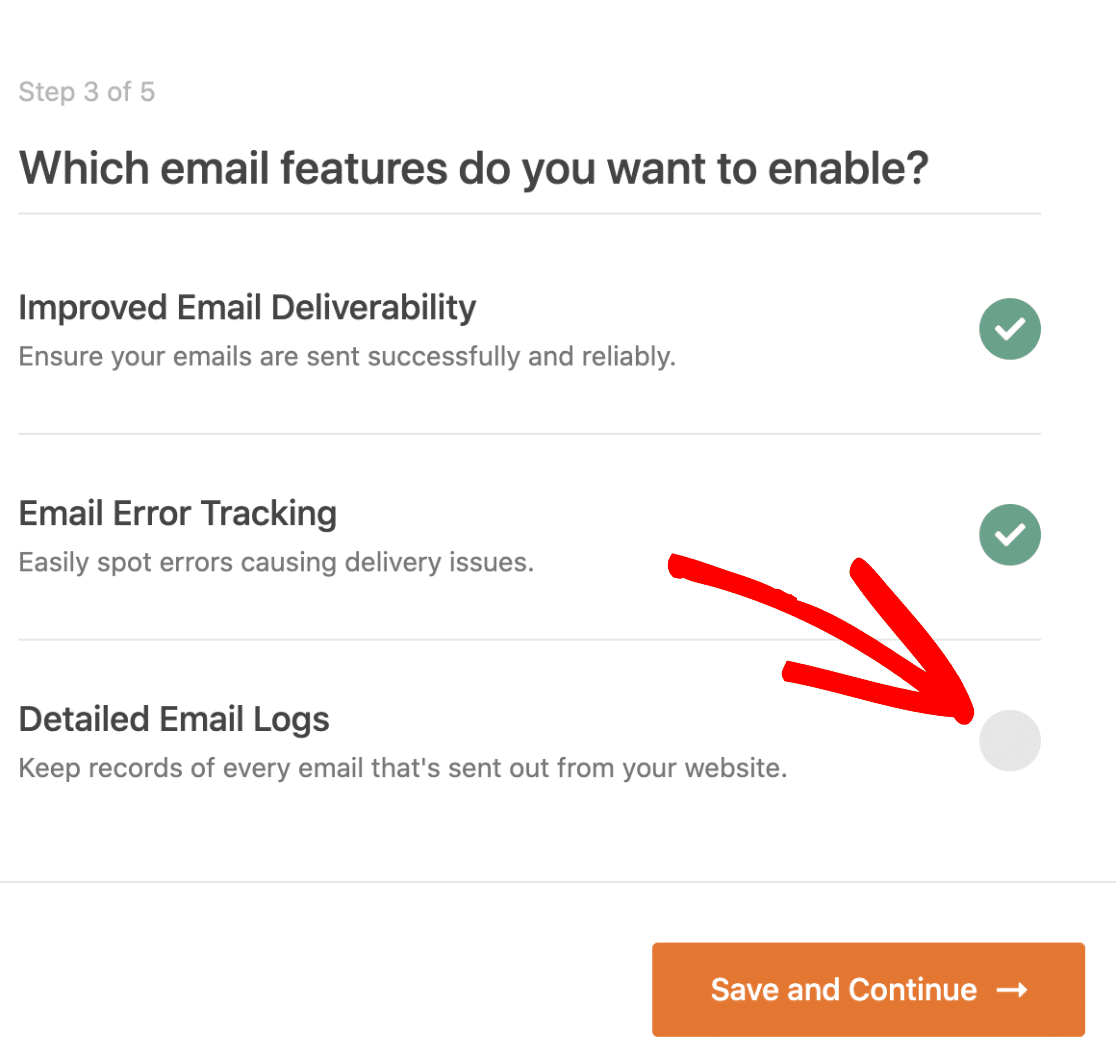 The Detailed Email Log will let you track all the emails your website is sending. WP Mail SMTP Pro also includes a helpful dashboard widget using which you can easily see the status of your emails. It displays the data in the form of a chart that makes it easy to spot issues.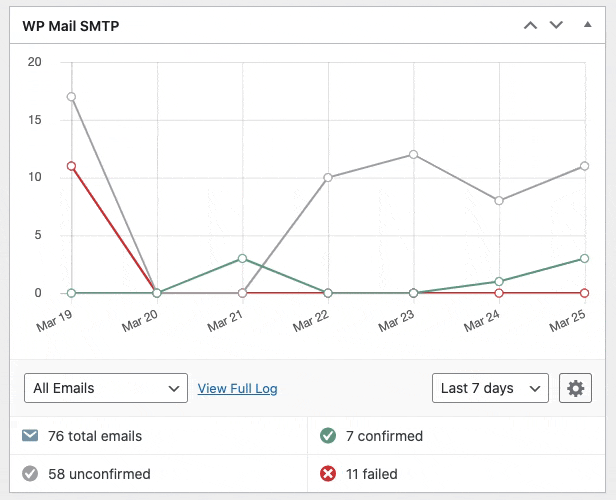 For the last step, go to your WP Mail SMTP account, copy the license key and paste it into the box. This will enable automatic updates to the plugin.

There's one more thing we need to change.
Step 3: Change Your 'From' Email in Divi
The Divi form is very basic and you can't change the 'From' email that your forms use to send emails. This is important because email client apps check the origin of the email. If the address from which the email is sent doesn't exist, it is marked as spam.
Divi form uses the default email address ([email protected]) to send emails. This a non-existent email for most websites.
WP Mail SMTP makes it easy to change the Divi contact form 'From' email on your website.
Go to the WP Mail SMTP Settings and scroll to find the From Email section.

Here, type in the email address you want to use for sending emails and check the box that says Force From Email.

This setting will be applicable site-wide, which means every plugin on your website will use the same address for sending emails.
That's it! This should fix the Divi form not sending email.
Next Step: Check Your SPF Records
Email servers often use SPF, DKIM, and DMARC records to authenticate emails. WP Mail SMTP will check your DNS settings and alert you if it detects any problem.
SPF records are simple TXT records that validate all outgoing emails to prevent domain spoofing. If you need to have more than 1 SPF record, check out this guide to merge multiple SPF records into one rule.
Ready to fix your emails? Get started today with the best WordPress SMTP plugin. WP Mail SMTP Elite includes full White Glove Setup and offers a 14-day money-back guarantee.
If this article helped you out, please follow our sister site WPForms on Facebook and Twitter.